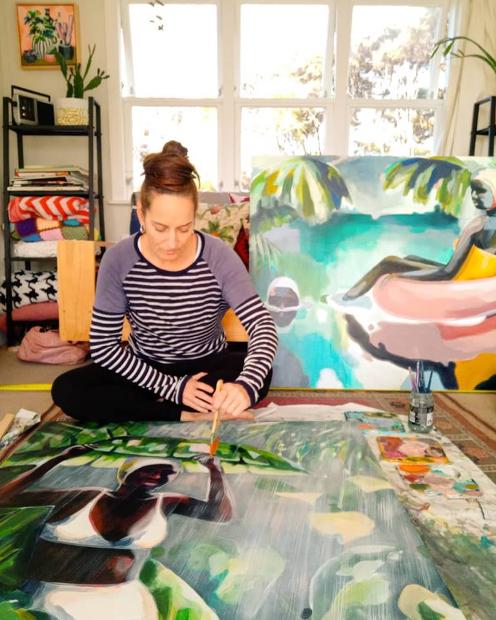 Born in Australia and raised on the shores of Taranaki, New Zealand.
Extensive overseas travel has enriched and informed the direction
of Blongs work. She graduated in 2006 with a major in sculpture and
painting from Hungry Creek Art and Craft School in New Zealand.
Sculpture was the basis of her work for several years, working predominantly in wood, the figurative forms related to navigation and ocean faring cultures. She also worked as studio technician to renown New Zealand sculptor
Terry Stringer.
These days painting forms the direction of her work, in which the work is suggestive of a timeless era, a mottled memory of
belonging to a time and place. It speaks of hot heady summers,
inclusion yet seclusion. An escape.
It's about the shadows and the light, the intoxication of the tropical
and the undercurrent often found in such
places.
It focuses on a narrative suggesting connection to land, time and place.
Often looking to folk art and primitive works.
she enjoys creating the essence of a time bygone, perhaps a dreamlike state.
Tanya Blong works from Muriwai Beach, New Zealand
She has had solo and numerous group and public shows.
Her work is held in international, public and private collections.